Portland Drop Box Special
Right now,
Portland
residents can save time, and money by renting a temporary Drop Box dumpster Arrow Sanitary Service. Drop Boxes, also known as roll off dumpsters, help to keep a worksite cleaner and safer for projects like:
Basement and garage cleanouts
Home remodeling
Landscaping
Moving
Residential Drop Box Rental cost is based on:
Drop Box Size
Weight of Material Disposed
Container Delivery Fee - This fee is discounted by 50% during this special
Container Rental Days - Up to 7 days free
Container Pickup Fee - This fee is waved during this special
Understanding Your Needs
To help us understand your needs and provide the most competitive price, here is the step-by-step process for renting a drop box for your residence.
Step 1 - Determine Materials to Be Removed
Describe in writing the type and amount of materials you need removed and determine if they fall into any of these categories:
| | |
| --- | --- |
| HOUSEHOLD WASTE | Items placed inside the home or building after it was built like clothes, furniture, carpet, etc. |
| CONSTRUCTION & DEMOLITION (C&D) DEBRIS | Materials used to build a house or structure like boards, wood, drywall, windows, doors, plywood, toilets, bathtubs, shower stalls, cabinets, countertops, etc. |
| HEAVY MATERIALS | High density materials like concrete, stone, asphalt, dirt, sod, brick block, stumps logs, asphalt shingles, etc. |
| UNACCEPTABLE ROLL OFF ITEMS | Appliances with Freon, asbestos, ashes, batteries, barrels, electronics, Household Hazardous Waste, liquids, medical waste, oils/gasoline, and propane tanks. |
Step 2 - Check Area for Roll Off Placement
Before ordering a container, it is wise to check and measure the area where you want the drop box placed.
Check for overhead hazards (up to 20 feet) for power lines, tree branches
Check that no cars will block access before delivery and on pickup day
Containers placed on the street or blocking a sidewalk requires the homeowner to acquire a permit from the local municipal government clerk office.
Step 3 - Choose a Drop Box Size
Our experienced professionals can help you select the right size for your residential cleanout, remodel or demolition project.
Project Examples
CONTAINER SIZES
RESIDENTIAL ROLL OFF PROJECT EXAMPLES
10 cubic yard

Exterior remodel projects
High-density, bulky materials like roof shingles, concrete, bricks and siding.

20 cubic yard

Household cleanup
Old carpets, furniture, toys and other materials from attics and garages.

Interior remodel projects, small to medium
Removal of heavy materials such as sinks, tiles and bathroom fixtures.

30 cubic yard

Interior remodel projects, small to medium
Large amounts of carpet, furniture, rugs and other low-density materials.

Renovations, medium to large
Removal of large amounts of carpet, wood, furniture, rugs, and other low-density materials.
Drop Box Sizes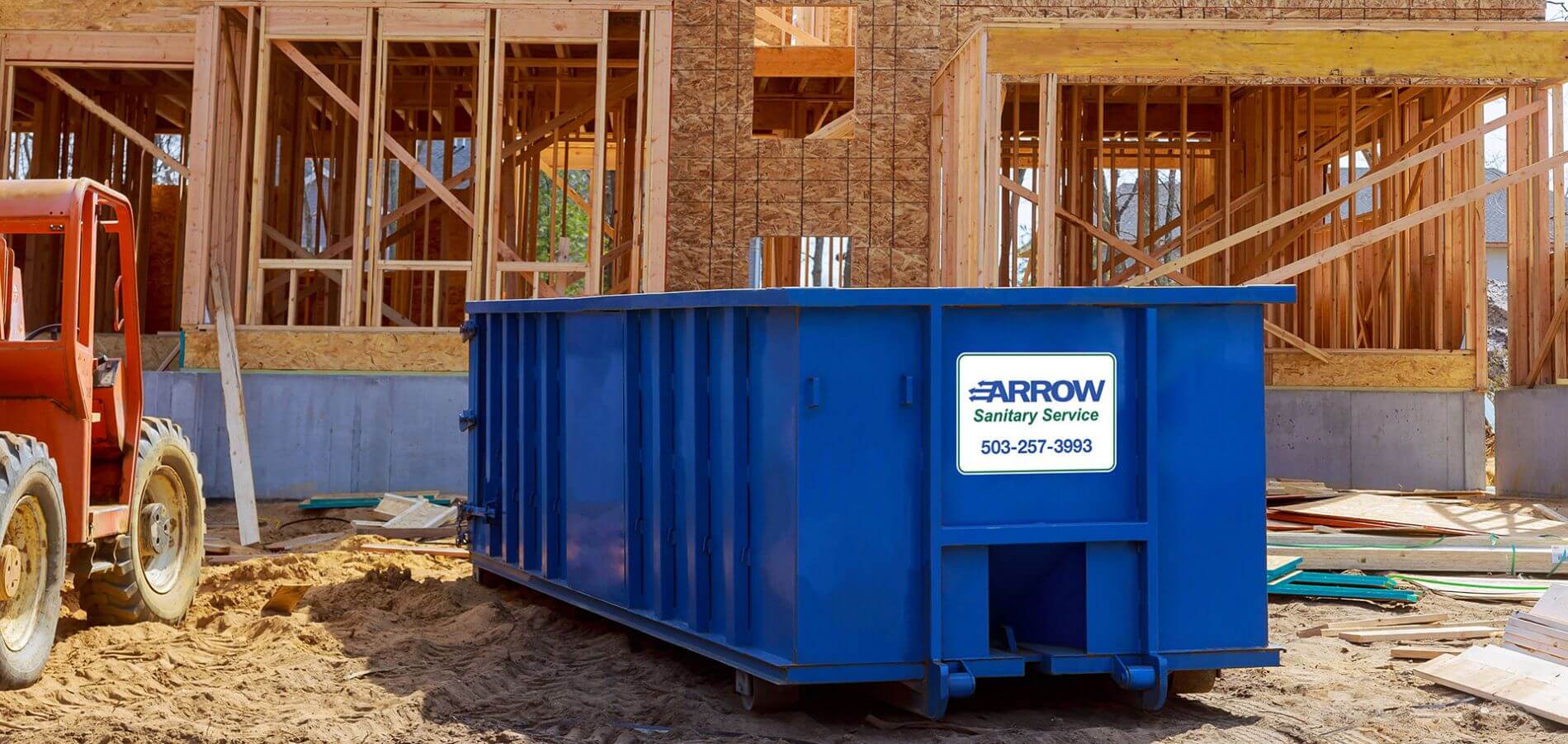 | | | | |
| --- | --- | --- | --- |
| Open Top | Width | Length | Height |
| 10 Yard | 7.5' | 14' | 3.5' |
| 20 Yard | 8' | 22' | 5.5' |
| 30 Yard | 8' | 22' | 8' |
| 40 Yard | 8' | 22' | 8'5" |
Step 4 - Choose Delivery Date Options
While Arrow Sanitary Service maintains one of the largest inventories of drop box containers, trucks and professional drivers in our area, it is wise to plan ahead to acquire the best pricing for various delivery dates.
Step 5 - Review Payment Options
Drop Box Rentals require payment in advance based on the estimate. Arrow Sanitary accepts American Express, MasterCard, and Visa. We also accept payment by via check.

Step 6 - Request a Quote & Finalize Order Details
Day or night, 7 days a week, you can always Request a Quote online and we'll get back to you during our normal business hours with a quote, drop box size guidance, and delivery date options.
Request Quote by Phone: 503-257-1331
Customer Service Hours: Monday-Friday 8AM to 5PM
Step 7 - Load Acceptable Materials Evenly
After the container is delivered, please load the materials evenly in the container and do not fill above the top level. If the container is loaded unevenly or too high, the load may be rejected due to safety issues.
Step 8 - Request Container Pickup
You can request the container be picked up online or by calling.
Request Drop Box Pickup Online
Request Pickup by Phone: 503-257-1331
Customer Service Hours: Monday-Friday 8AM to 5PM


---
Last Modified:
---
Categories