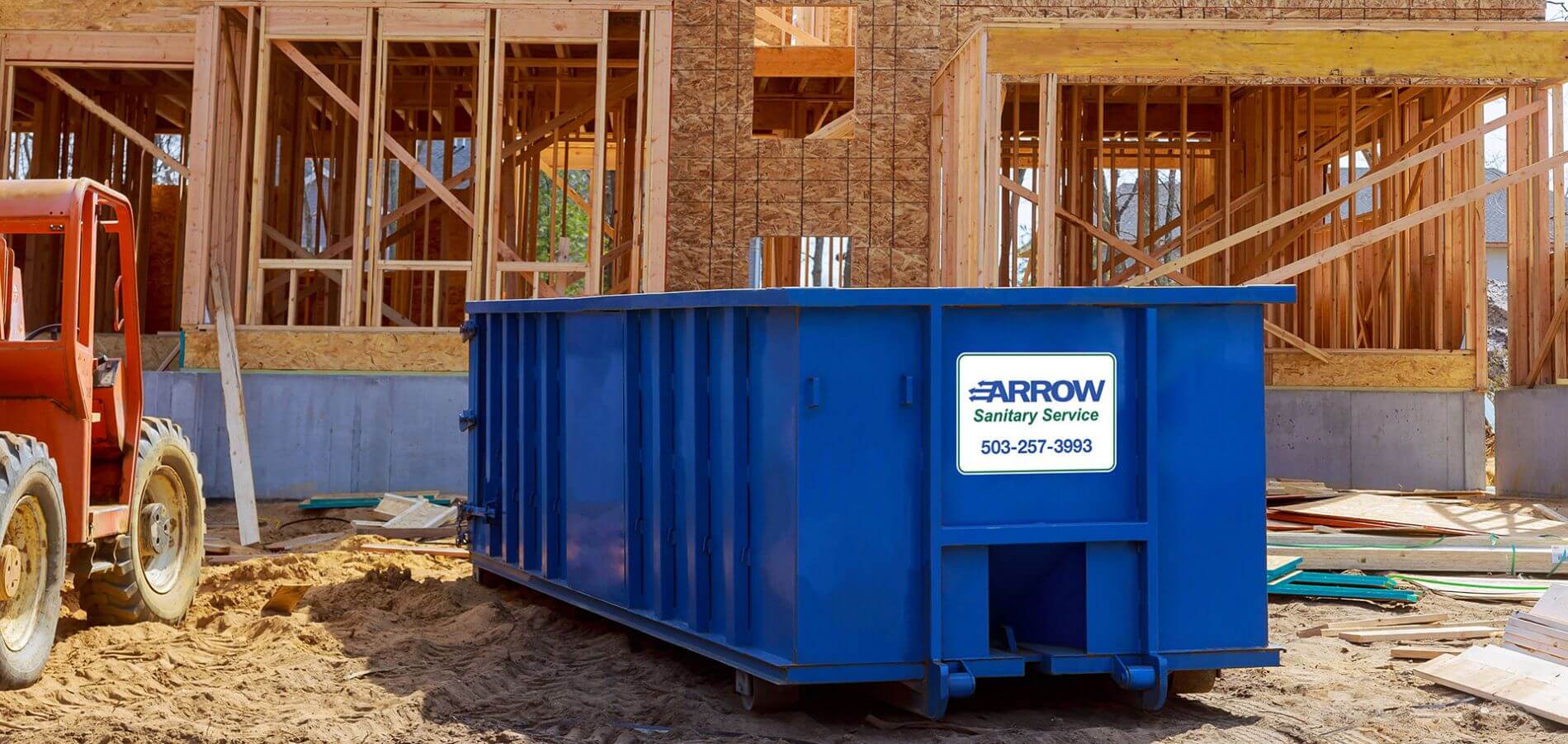 Portland Drop Box & Roll Off Services
Businesses and residents rely on Arrow Sanitary for safe, timely and cost-effective service at their job sites.
Drop Boxes | Materials | Safety | LEED Recycling | Request Quote | Request Service
Arrow Sanitary drop box service is available in Portland, Gresham, Clackamas County, Estacada, and Multnomah County, Oregon for contractors, businesses, residents and events.
Safety and service driven since 1956, Arrow Sanitary Portland drop box service:
Offers timely quotes and service guidance from drop box professionals
Provides flexible service schedules: daily, weekly, as needed
Employs safety focused roll off drivers with job site experience
Supports LEED projects
Drop box and roll off compactor services are a great way to save money, increase efficiency and promote sustainability. Whether you need occasional hauls or several times a day, Arrow Sanitary has the experience, dependability, and equipment to keep you on schedule.
Construction Roll Off Services
Construction projects large and small
Demolition projects
Commercial Drop Box
Building remodels
Event venues
Landscape projects
Residential Drop Box
Home, basement, garage clean-outs
Home remodels
Home landscape projects
Arrow Sanitary Drop Boxes
We offer drop boxes in all sizes throughout Portland. Stated dimensions might slightly vary based on manufacturer.
| Open Top | Width | Length | Height |
| --- | --- | --- | --- |
| 10 Yard | 7.5' | 14' | 3.5' |
| 20 Yard | 8' | 22' | 4' |
| 30 Yard | 8' | 22' | 6' |
| 40 Yard | 8' | 22' | 8' |
Not sure on a size for your project or location? One of our drop box specialists is available to meet you on site to review the best fit for your space no matter where it is in Portland.
Drop Box Materials
For safety, environmental and legal reasons, Arrow Sanitary Service only handles certain materials. Please speak with a sales representative about any special waste or recycling materials your business or project generates.
We accept loads including: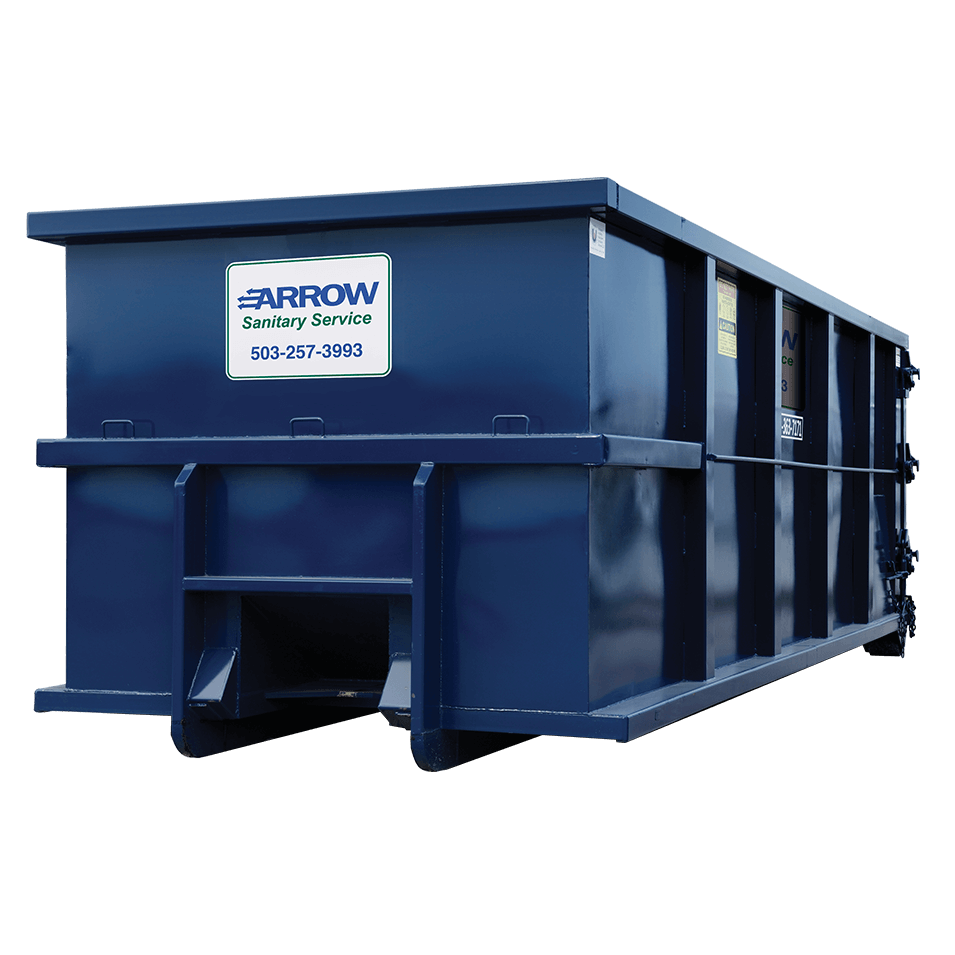 Drop Box
Items marked * may require asbestos testing - Ask your sales rep for details.
Materials Accepted
Cardboard
Concrete*
Drywall*
Garbage
General construction & demolition debris*
Metal
Plastic
Special waste with approval
Wood
Yard waste
Drop Box
Materials Not Accepted
Air conditioners (with Freon)
Asbestos
Batteries
Chemicals
Drums, barrels
Electronics
Hazardous waste
Liquids
Oils, gasoline
Paint cans with liquid paint
Propane tanks
Refrigerators (with Freon)
Tires
TVs
Drop Box Safety
For everyone's safety, please follow these safety guidelines:
Drop box containers cannot be placed under powerlines.
Only place acceptable items in the container and load it evenly.
Do not load materials beyond the container weight limits.
Do not place any liquid, toxic, flammable or hazardous materials in the container.
Keep children away from drop box containers.
Keep everyone away from the container is being delivered or picked up.

LEED Recycling
Arrow Sanitary Service is proud to be a LEED waste management company. LEED stands for Leadership in Energy and Environmental Design, and the LEED green building certification program is a national standard for the design, construction and operation of green buildings.
Each LEED project that we participate in is carefully tracked and documented to ensure that all reusable and recyclable materials are properly sorted and diverted from the landfill.
If your project is seeking LEED certification or just keeping track of your sustainability efforts we've developed a special software program, Recycle 360 to help. Recycle 360 is a program that conveniently keeps track of your waste management plan and diversion efforts. You can be assured your waste material is recycled to the fullest extent possible according to your waste management plan; Recycle 360 is updated in real time throughout the project.
We can help you navigate the process of ensuring your Construction/Demo loads are clear of asbestos along with arranging the paperwork required to haul special wastes to a certified facility.